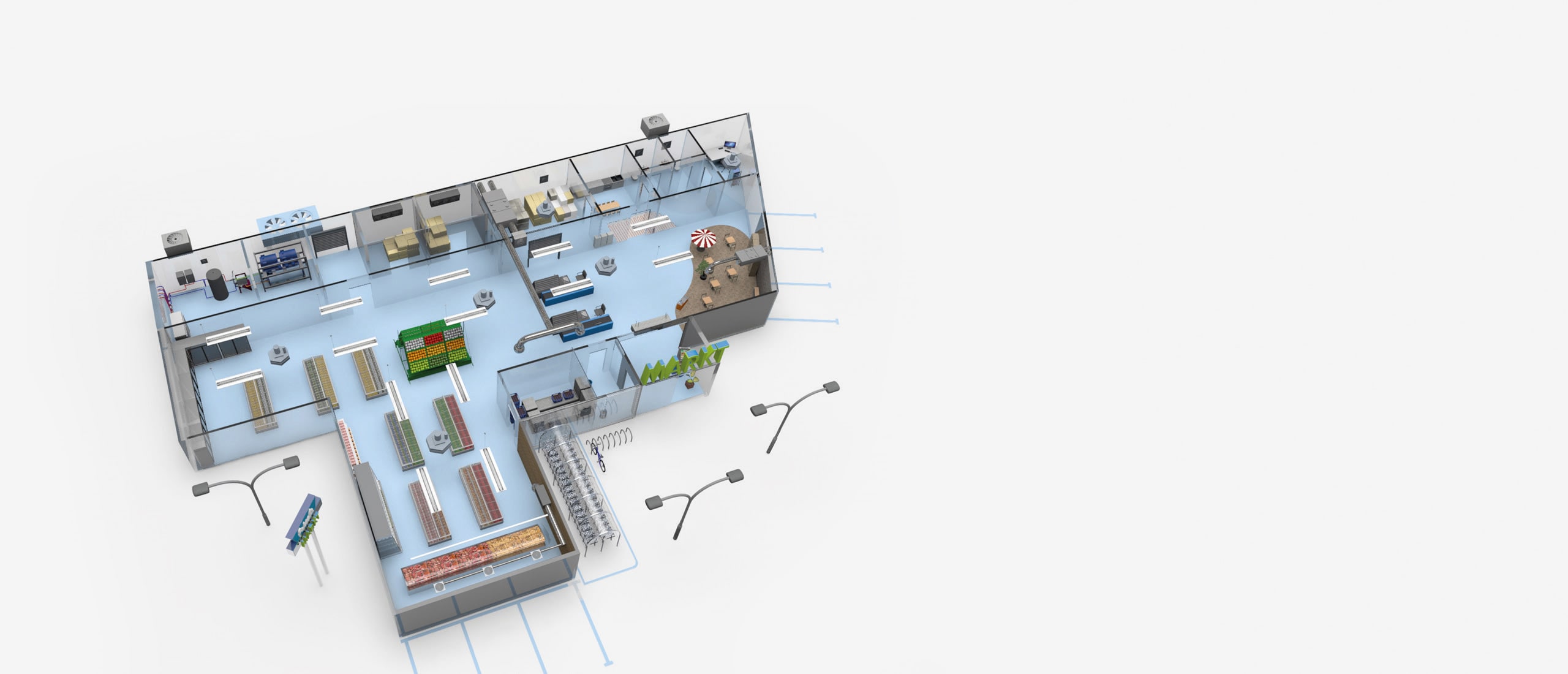 GTM at the supermarket
Discover our holistic offer!
By clicking on one of the icons below the associated text information and the corresponding components in the interactive market graph will be displayed.
Ventilation
Demand-oriented operation: modern ventilation control guarantees comfortable room conditions for customers and staff at the lowest energy consumption. ECOLINK considers room temperature, air quality, absolute air humidity, outside conditions and weather forecasts. Central ventilation units, ceiling-mounted units, air curtains, excess pressure units and waste air systems are operated to the optimum – and switched off if possible. The CO2-driven operation of central ventilators with rotational or cross-flow heat exchangers in particular offers a large saving potential. Operating modes like day and night operation or heating and cooling mode are complemented by additional functions such as: "free cooling", monitoring humidity ingress, night cooling and the release of decentralised air conditioning. Our motto is: "The right operating mode at the right time".
Central ventilators (store and experience area)

Air curtains

Waste air systems

Excess pressure unit at the fresh food counter

ECOLINK control cabinet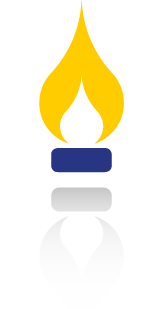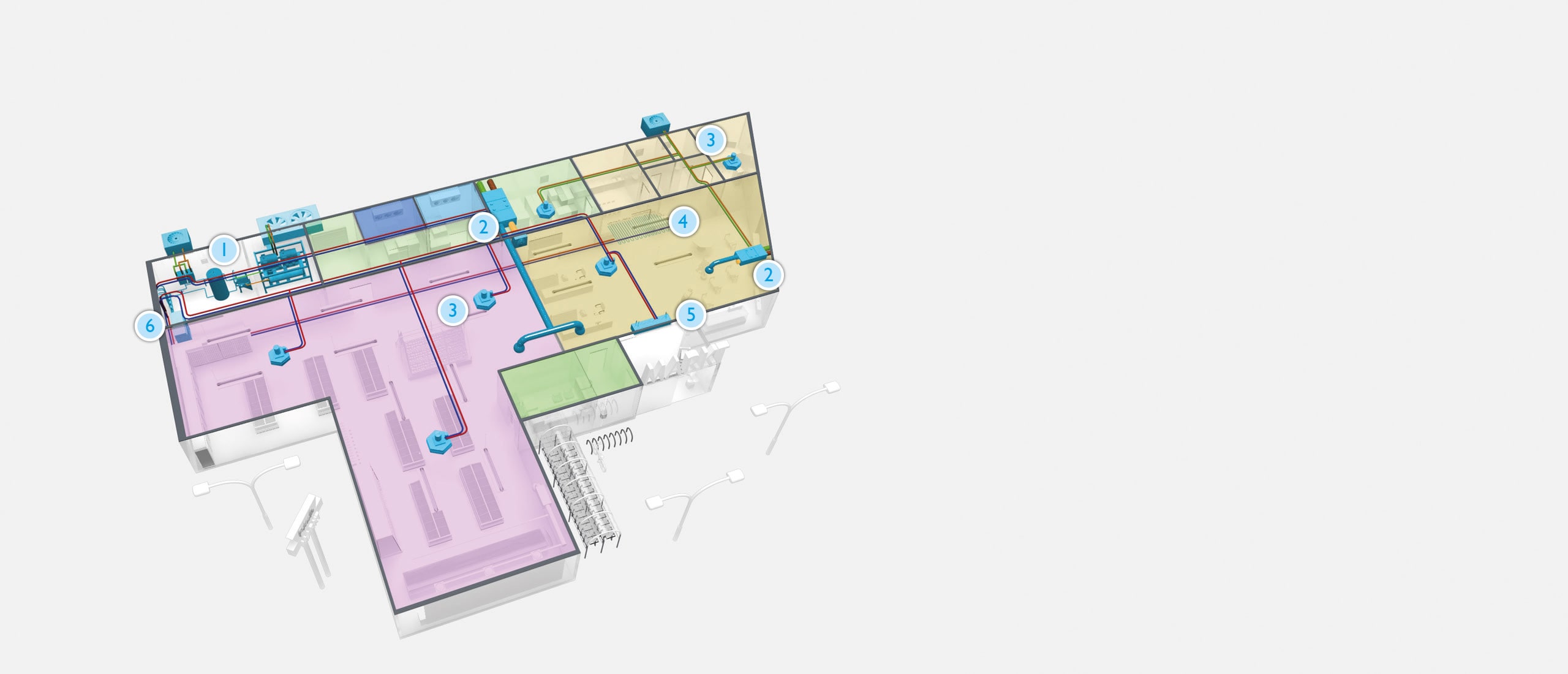 Heating
Warmth where you need it: retail properties have different temperature zones with different requirements. At first, ECOLINK calculates the total heat requirement of the market from the total of all energy consumers such as ceiling-mounted units, air curtains, static heating surfaces, concrete core activation zones or registers in ventilators. We provide a targeted control of heat generation in consideration of commercial refrigeration that often plays a crucial role. As further components, additional sources of heat such as multistage heat pumps, long-distance heating or traditional boilers are also integrated into the comprehensive heat management. The heat is transported through the appropriate hydraulics with the specific control functions from GTM.
Heat recovery from compound refrigeration system

Central ventilators (hydraulic & VRF)

Ceiling ventilators (hydraulic & VRF)

Floor heating

Air curtains

ECOLINK control cabinet
Cold and heat recovery
Saving resources: in order to cover the heat and air conditioning demand in a market, our solutions use the waste heat from commercial refrigeration plants and the air-side heat recovery of conditioned room air. The FRIGOLINK and ECOLINK bus communication enables the best operating mode for heat recovery according to current needs. Only when all the available energy resources have been exploited, we supply energy from additional sources of heat or cold. FRIGODATA ONLINE subsequently provides condensed evaluations in order to detect cross-project weak points. Main objective is a well-balanced control of all energy flows. In this way, cold, air conditioning, heating and hydraulics form a sustainable and efficient system solution.
Heat recovery compound refrigeration system

Air-side recovery

ECOLINK control cabinet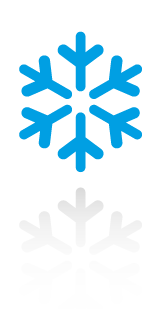 Climate
Important for customers and goods: modern food stores are usually air conditioned today. Pleasant room temperatures and controlled air humidity ensure the well-being of the costumers,  preserve fruit and vegetables, avoid condensation water on refrigerated shelves and reduce the energy demand of commercial refrigeration. For different types of air conditioning we have a wide range of control and coupling functions. They range from a simple release of split system devices and Modbus couplings to VRF systems to water-based solutions with the use of existing hydraulics. METEOLINK provides the innovative opportunity to air-condition the store during the night BEFORE warm days. Thus, the store will open well-prepared the next morning and avoid midday performance peaks that are often expensive. We control climate, humidity and the locking of the heating system according to temperature bands that take into account the day-dependent room conditions and weather prognoses.
Central ventilators (hydraulic & VRF)

Ceiling ventilators (hydraulic & VRF)

ECOLINK control cabinet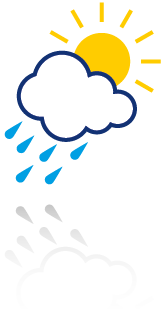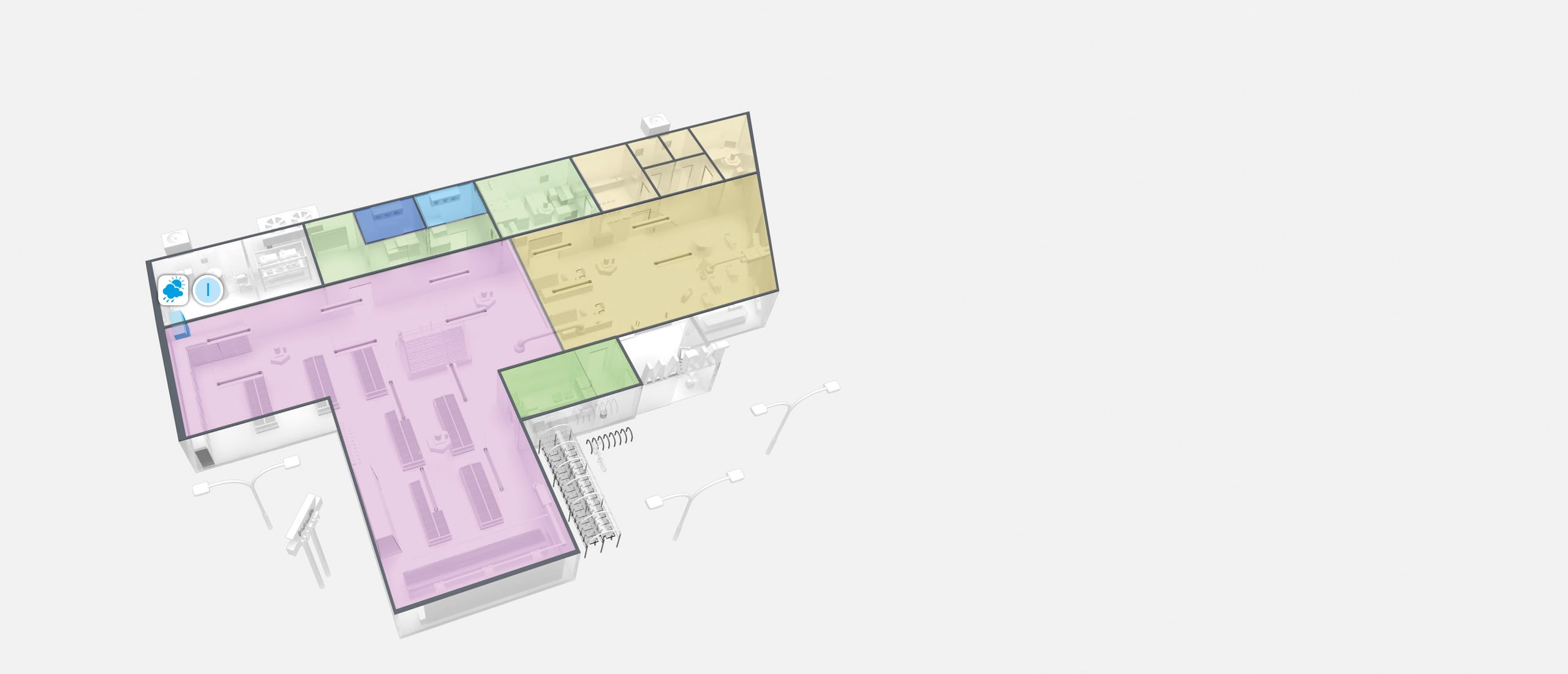 Meteolink
Intelligent use of weather data: since 2011, our control strategy METEOLINK integrates weather data into applications for refrigeration and building technology. For this purpose updated regional weather forecast data are incorporated into the modelling of the automation processes as control signals. This early preparation for special climatic requirements enables proactive control of heating or cooling operations. Before particularly warm days, we air-condition at night whereas before cold days we use full heat recovery. Humidity control is also improved - it can suppress or activate external air cooling on the basis of the predicted outside air humidity according to demand. There are many possibilities.
ECOLINK control cabinet: forward-looking system control by means of the integration of weather forecast data from a local weather station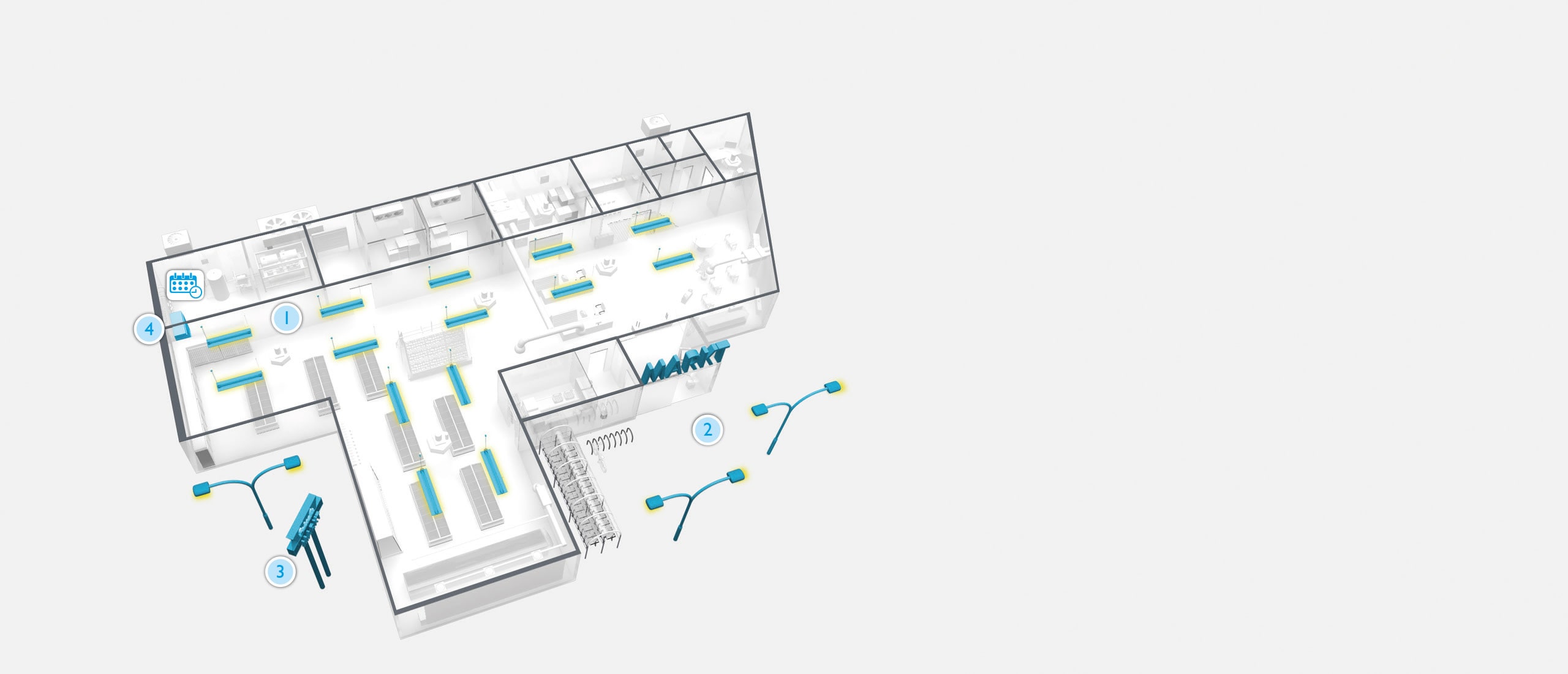 Lighting
Economic efficiency and well-being: we provide you with best light conditions for indoor, outdoor and advertising that is cost-saving as well. With its twilight sensor, our annual time switch HMU records real light intensity outside. Larger consumers will be switched on if needed. Fixed and variable public holidays are taken into consiederation. Moreover, it is possible to adjust special opening times via remote data transmission so that no on-site-operation is required. The great advantage of the system solution lies in coupling the operating modes of all plant components with the opening times and in automatically running the closed store in standby mode. As a consequence, we can avoid lights blowing, ventilators running 24/7 and constantly high heater temperatures.
Indoor lighting

Car park lighting

Advertising lighting

ECOLINK control cabinet
Monitoring
Creating transparency and realising savings potentials: the basis of any energy management is informative, condensed and cross-project data. The FRIGODATA ONLINE web portal is certified for systematic energy management to the DIN EN ISO 50001 TÜV standard. Here you can find all consumption data, temperature curves, control commands and fault messages for refrigeration and building technology in the form of tables or curve progressions at a glance. This enables our customers to identify noticeable deviations among a large number of stores very quickly. Deviations can be high energy consumption, high temperatures of goods and rooms or a significant number of fault messages. FRIGODATA ONLINE is currently being used by operators, HACCP officers, refrigeration firms, specialist HVAC companies, system partners and energy managers.
IT connection to the store manager's office

ECOLINK control cabinet: data recording for monitoring
System integration
Think in networks, control centrally: since 1995, the Wurm Group with its subsidiary GTM, belongs to the leading providers of comprehensive system solutions for commercial refrigeration and building technology for food retailing. Collected data is visualised on a shared platform. Today, additional comprehensive solutions enable the system integration of external plant components, such as:
Integration of, for example, Daikin, Stulz, Mitsubishi and Panasonic heat pumps with remote access and visualisation (via modbus)

Integration of Kampmann and Wowi-Wickert ceiling-mounted units with fieldbus modules

Integration of ready-to-use deep freezers and refrigerators (AHT, Liebherr, Carrier)

Integration into superordinated control systems via BACnet
Integration of building technology plant systems

Integration of refrigeration technology plant systems

ECOLINK control cabinet: central access to automation system